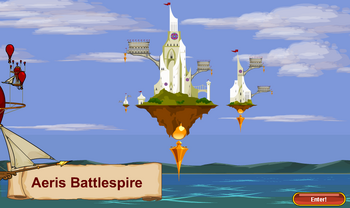 Floating city built for the specific purpose of PVP combat.
Release Date: December 1st, 2006
Quests Available
NPCs
Coach
Duelist Lounge Patrons
Shops
PvP Novice
PvP Scrapper
PvP Brawler
PvP Pit Fighter
PvP Arena Fighter
PVP Savant
PVP Professional
PVP Contender
PVP Elite
PVP Grand Master
Ranks
Your Battlespire Rank is a reward for your successes in the Aeris Battlespire PvP tournaments.
To gain ranks, trade in Aeris PvP Trophies to Keelia. The table below shows how many trophies you require to gain the next rank. The maximum number of Aeris PvP Trophy that can be held is 300.
Higher ranked duelists gain access to better shops for PvP rewards: Novice Shop, Scrapper Shop, Brawler Shop, Pit Fighter Shop, Arena Fighter Shop, Savant Shop, Professional Shop, Contender Shop, Master Duelist Shop, Grand Master Shop.
You cannot earn a trophy by typing one's player id and fight them. That bug was fixed, so you must fight a randomized players to earn trophies.
Rank Number
Rank Name
Trophies Required
Trophies Spent Altogether
Fair Players Needed To Beat
1
Novice
1
1
5
2
Amateur
5
6
30
3
Scrapper
10
16
80
4'
Slugger
20
36
180
5
Brawler
30
66
330
6
Rumbler
40
106
530
7
Grinder
50
156
780
8
Pit Fighter
60
216
1080
9
Duelist
70
286
1430
10
Arena Fighter
80
366
1830
11
Ringer
90
456
2280
12
Savant
100
556
2780
13
Expert
125
681
3405
14
Professional
150
831
4155
15
Prize Fighter
175
1006
5030
16
Contender
200
1206
6030
17
Champion Duelist
225
1431
7155
18
Elite Duelist
250
1681
8405
19
Master Duelist
275
1956
9780
20
Grand Master Duelist
300
2256
11280
Dialogue
The Airship Dock
Cap'n Jack: All aboard the Aeris Airship #2525 making non-stop (60mph or greater) flights to Falconreach, Oaklore and may the fates save us... Amityvale!
Takes you to Falconreach
Takes you to Oaklore Keep
Takes you to Amityvale
Leaves conversation
Tournament Entrance
Keelia: Welcome to the Aeris Battlespire! I am Keelia, one of the five Arena Masters. Would you like to join the current Tournament?
Join a Duelist Tournament
Takes you to Aeris Minor Tournament
Keelia: There's someone I would like to see you talk to, <Character Name>.
Keelia: His name's Akira, and he's spent most of the past day annoying my patrons.
Keelia: Keeps yelling how he's the strongest fighter on LORE... If only I didn't have to remain impartial... What do you say?
Keelia: Try and show him what's up?

Keelia: You look like you're ready to rumble. GREAT! Let me just get your name and I'll announce you in the next battle!
Keelia: The people come to Aeris to see a good fight so do your best, but remember this is all just for show. No one gets hurt.
Keelia: ...ok, sure...people do get HURT but no one gets KILLED. Get out there and give the people what they paid for.
Keelia: There are 20 ranks you can achieve as a Duelist. Turn in Trophies to increase your rank!

Keelia: Your shop depends on your PvP rank. Rank up to access better equipment shops.
Keelia: You must really enjoy dueling! Are you sure you want to set your home town to Aeris Battlespire?
Leaves conversation
Keelia: Save up your Trophies to increase your rank, level up the Duelist class armour, and purchase new gear!
Keelia: The Duelist Arena is open! Curious about future additions to the Battlespire? Read the Aeris future construction plans.
Takes you to a link that shows you the future plans of Aeris Battlespire.
The Duelist Arena
If you've a high enough level you can access the Duelist area: Guard: Welcome to the Aeris Battlespire. You are high enough to explore a little, do you wish to pass?

Explore more of Aeris Battlespire
Ends conversation
Along the way, as you explore the area: You can see your house from up here!
"Please watch your step. We've run out of preservers and rope"
Not very talkative, are they?
You might be able to fit your head through here.
Its a loooooooooong way down.
So THAT is what the top of Falconreach looks like.
How did those two get back there? Crawl under tables?

When you try to go into the next area: Guard: Sorry <Class>, you'll need to be a higher ranked Arena duelist to pass this point.
In the Duelist Lounge
Coach: Welcome to the Duelist Lounge... "Where everybody knows your name and wants to fight you!"
Note
Get to rank 5 to unlock PvP Brawler badge.
Get to rank 10 to unlock PvP Arena Fighter badge.
Get to rank 15 to unlock PvP Prize Fighter badge.
Get to rank 20 to unlock PvP Grandmaster badge.

Ad blocker interference detected!
Wikia is a free-to-use site that makes money from advertising. We have a modified experience for viewers using ad blockers

Wikia is not accessible if you've made further modifications. Remove the custom ad blocker rule(s) and the page will load as expected.