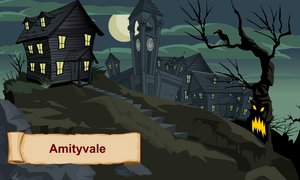 Amityvale is a town that you can go there by the Travel in Falconreach. It is related to a small underground city called Doomwood. Doomwood is also known as Necropolis. In Amityvale has many monsters such as : Raven, Pumkin Slice, Gourdking, Bonefire, Shakespear, Swamp Shambler, Lagoon Goon, Lon, Yaga Sister, Dark Drinker, Guffer, Armadeadon, Deadwood, Flying Eyeball, Deadwood Destroyer, and Badbones. There are many NPCs ( Non-Playing Characters ) such as : Rosemary, Zorbak, Thursday, Artix, Lugosi, Wednesday, Mayor, Citizens, Mother, Sally, Lady Vayle and Villagers.
Ad blocker interference detected!
Wikia is a free-to-use site that makes money from advertising. We have a modified experience for viewers using ad blockers

Wikia is not accessible if you've made further modifications. Remove the custom ad blocker rule(s) and the page will load as expected.