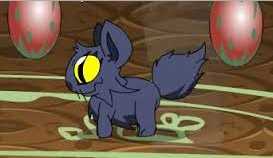 The Doomkitten is a creature that was summoned by Warlic in the quest
Summoning Help
, in order to identify the dragon egg. A widespread rumor claimed that players could earn a free
Dragon Amulet
by beating this enemy more than 200 times, but this has been confirmed to be false.
This boss scales down each time you attempt to beat it.
Information
General
Stats
Defense
Offense
HP:
scaled
Strength:
5
Melee:
0
Damage:
scaled
MP:
scaled
Intelligence:
12
Range:
0
Crit:
2
Exp:
scaled
Dexterity:
12
Magic:
0
Bonus:
0
Gold:
scaled
Endurance:
2
Parry:
1
Boost:
0%
Level:
scaled
Charisma:
20
Dodge:
1
Element:
Darkness
Race:
Elemental
Luck:
5
Block:
0
Dragon Coins:
--
Resistances
Shrink: 100%
Immobility: 95%
Darkness: 200%
Light: 50%
Stone: 50%
Fire: 50%
Ice: 50%
Metal: 50%
Water: -200%
Ad blocker interference detected!
Wikia is a free-to-use site that makes money from advertising. We have a modified experience for viewers using ad blockers

Wikia is not accessible if you've made further modifications. Remove the custom ad blocker rule(s) and the page will load as expected.