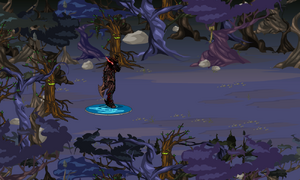 Release Date: August 4th, 2007
Objective: You must battle your way through this cursed forest to destroy the evil tree monster responsible for these corrupt trees.
Objective completed: You defeated a Doomwood Destroyer! This forest is a step closer to once again flourishing with life and purity. You have given the people of Doomwood hope!
Scaled Yes/No: Yes
Monsters
Rewards
Note: Only characters levels 1-19 will receive weapon drops in this quest due to the Universal Loot Table.
Swords/Axes
Daggers
Staves
Ad blocker interference detected!
Wikia is a free-to-use site that makes money from advertising. We have a modified experience for viewers using ad blockers

Wikia is not accessible if you've made further modifications. Remove the custom ad blocker rule(s) and the page will load as expected.