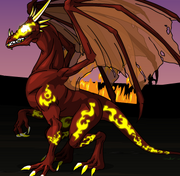 The Fire Orb Saga is the sixth installment of The Orb Saga, right after (or before, depending on what you did first) the Storm War and contains The Fire War as part of its storyline.
It contains sixteen quests, and after its completion, grants the ability to use the Elemental Orbs to Primalize your dragon.
It can be accessed through Twilly in Falconreach, and after the release of the event, Yulgar was moved from Falconreach to Battleon , and Lim was introduced as the new caretaker of his forge.
Also it should be noted, that since the release of The Fire Orb Saga, Akriloth has been on DragonFable's front page.
Summary
Quest List
Important Characters