This article contains information about an item or quest that is only available to players who have upgraded their characters and received a Dragon Amulet.
Mighty ShadowReaper of Doom

Level:
15
Location:
Yulgar
Price:
N/A
Sellback:
2,800 Gold 
Element:
Darkness
Attack Type:
Melee
Damage:
42-74
Bonus:
2, Crit+3, Luk-5, Str+4
Rarity:
3
Description
This item requires a Dragon Amulet and a Blacksmithing Level 15 or higher to create.
Special
Special Name: DOOOOOOOOOOM!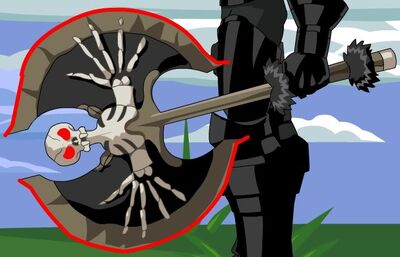 Special Activation: On-Hit
Special Damage: 5 extra damage for 5 turns
Special Element: Darkness
Special Damage Type: Melee
Ad blocker interference detected!
Wikia is a free-to-use site that makes money from advertising. We have a modified experience for viewers using ad blockers

Wikia is not accessible if you've made further modifications. Remove the custom ad blocker rule(s) and the page will load as expected.