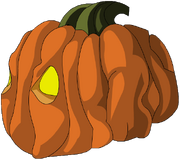 Mogloween is a holiday that occurs during the month of October, representing the in-game version of Halloween.
During Mogloween, there are special quests and events. There are also special monsters and NPCs for the event, as well as exclusive accessories.
Events
Mogloween 2010
Mogloween 2009
Mogloween 2011: Resident Sneevil
The Hero, Aria and Irwin are looking for the mysterious Zards that have appeared.