Raven

Level:
15 / Scaled
Location:
The Pumpkin Patch, Yaga Stone Circle, Nose for Trouble, Major Mayhem, There's No Place Like Oaklore, Purebred Protests, A New PenPal?, Frenzy at the Forge, Night of the Living Pumpkin, The Yaga Sisters, Head in the Clouds, Double, Trouble, Boil and Bubble, The Cat who Walks through Dimensions, Memory-Demons, The Map Room, The Final 13th! Darkness Attacks! - Creepy Crawlies, Finding the Red Brick Road
HP:
32 / Scaled
MP:
0 / Scaled
Monster Type:
Beast
Damage:
12-17 / Scaled
Damage Type:
Melee
Element:
Darkness
Gold gained:
1 / Scaled
Experience gained:
90 / Scaled
Stats
Strength
Strength Needed
Intellect
Intellect Needed
Dexterity
Dexterity Needed
Endurance
Endurance Needed
Charisma
Charisma Needed
Luck
Luck Needed
Wisdom
Wisdom Needed
Defenses
Melee
Melee Defense Needed
Pierce
Pierce Defense Needed
Magic
Magic Defense Needed
Parry
Parry Defense Needed
Dodge
Dodge Defense Needed
Block
Block Defense Needed
Offenses
Critical
Critical Needed
Bonus
Bonus Needed
Boost
Boost Needed
Resistances
Light: -70, Wind: 100, Darkness: 50
Attacks
Attack 1:
"Dark Claw" (1 Hit / Melee / Darkness)
Attack 2:
"Dark Fly" (1 Hit / Melee / Darkness)
Attack 3:
N/A
Attack 4:
N/A
Attack 5:
N/A
Attack 6:
N/A
Locations:
The Pumpkin Patch
Yaga
Stone Circle
Nose for Trouble
Major Mayhem
There's no place like Oaklore
PureBred Protests
A New PenPal?
Frenzy at the forge
Night iof the Living Pumpkin
The Yaga Sisters
Head in the Clouds
Double Trouble
Boil and Bubble
The Cat who Walks
Through Dimensions
Memory-Demons
The Map Room
The Final 13th!
Darkness Attacks! - Creepy Crawlies
Finding the Red Brick Road
Level: 12-17
Exp: 90-154
Gold: 1-6
Total HP: 32-135
Attacks:
Notes:
Attack 1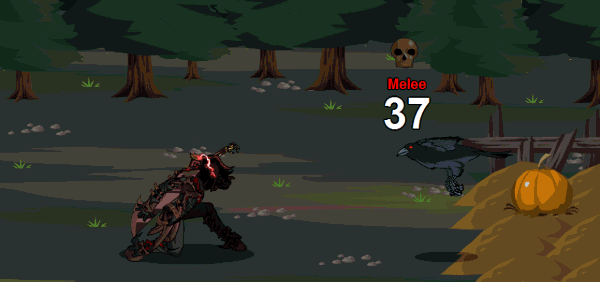 Attack 2
Ad blocker interference detected!
Wikia is a free-to-use site that makes money from advertising. We have a modified experience for viewers using ad blockers

Wikia is not accessible if you've made further modifications. Remove the custom ad blocker rule(s) and the page will load as expected.