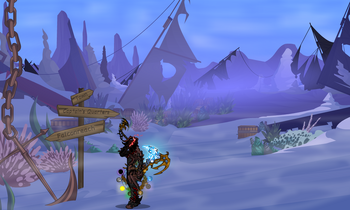 Far beneath the waves of Falconreach Bay, The Locker is a town built from the remains of a ship graveyard.
Quests Available
Aquella Random
Water Orb Saga
NPCs
Shops
Dialogue
Aquella
Aquella: Another surface dweller? Can't you stay on land? Why do you have to keep invading my home?
Aquella: You litter the sea floor with your broken ships…barrels, ropes, bones thrown overboard
Aquella: Turning my beautiful sea floor into this!
Aquella: And now, through some no doubt insidious magic…you can breathe underwater!
Aquella: More and more of you humans keep coming down here…and now you gather your broken ships together and make a town!
Aquella: "The Locker" is not a welcome sight and if I ever get my staff back I'll sweep it back to where it came from!

Aquella: It's lost
Aquella: One day I'll find it though…
Aquella: …and I'll sweep the sea clean of all the surface pollution
Aquella: So, if I were you I'd leave before I find my staff
Aquella: Do you really think I would trust someone from the surface?
The Locker Marketplace
Harry: Harry bobs and blurbles at you.
Edy: Shineys?
Thatch: Looking for a fishy friend?
Two-Eyed Jack: 'Ey there, <Class Title>. I got some lovely weapons…guaranteed not to rust!
Note
The Quest Chest replaces Aquella after completion of Pirate Attack, and leaves after completion of Rescue!
Kathool Adept Armor is the original theme for the Water Orb Saga.