Unlucky ShadowReaper of Doom

Level:
8
Location:
Mysterious Stranger
Price:
0 Gold 
Sellback:
2800 Gold 
Element:
Darkness
Attack Type:
Melee, Darkness
Damage:
40-72
Bonus:
1, Crit+3, Luk-3, Str+3
Rarity:
3
Description
Following the great Undead Assault, the holy Axe of the Paladin Artix was cursed and infused with pure darkness to create this terrible weapon of unstoppable dark power. 
Special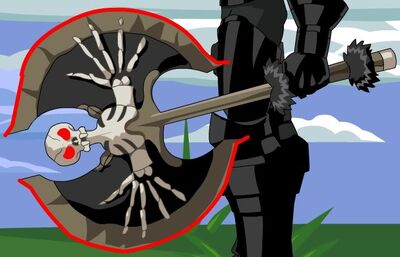 Special Name: DOOOOOOOOOOM!
Special Activation: On-Hit
Special Damage: 5 extra damage for 5 turns
Special Element: Darkness
Special Damage Type: Melee
Ad blocker interference detected!
Wikia is a free-to-use site that makes money from advertising. We have a modified experience for viewers using ad blockers

Wikia is not accessible if you've made further modifications. Remove the custom ad blocker rule(s) and the page will load as expected.